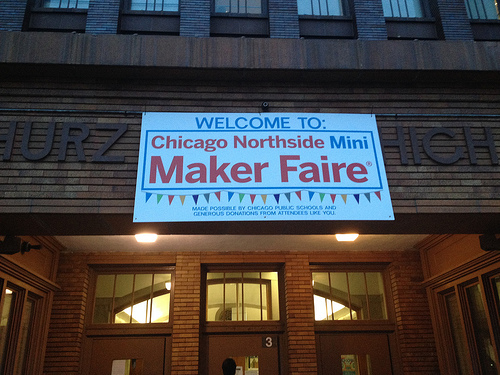 Saturday was the third annual Chicago Northside Mini Maker Faire at Carl Schurz High School in Chicago.  It was my first year in attendance, and my first time at a Maker Faire.  I did not have my own booth, rather I helped Kyle from Trossen Robotics man his booth.  I did bring a piece of art we collaborated on together for the Friendly Neighborhood Robot Factory show at Lala Gallery two years ago, though.  It has been about a year and a half since the last time I vended at an all-day event, much more than that since the last time I was vending at an outdoor event.  I am both better and worse at it than I recall being.  Word to the wise – you can never have too many bungee cords when vending outdoors.  Also, make sure to coordinate with your fellow vendees about signage and storage.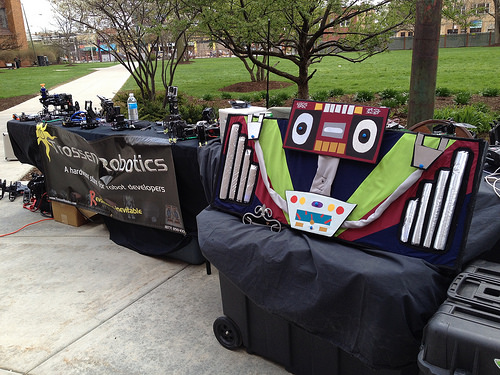 Surprisingly, to me, BoomBot became the star of the show for a little while when there was a group of people more interested in the less technical/advanced part of robotics.  I got to show off my fascinator from the Robot Show and talk soft circuitry with folks thanks to BoomBot's sexy lights.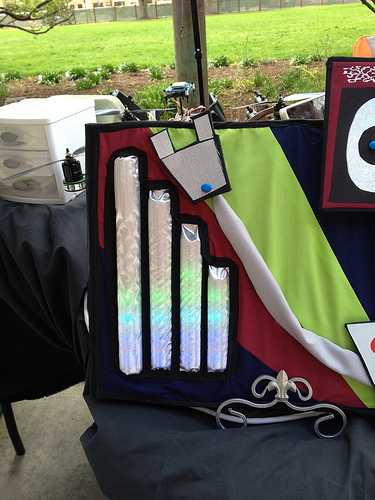 I spent a lot of my time demoing the Voodoo Arm Controller that Trossen sells for one of it's robotic arms, and letting kids, students and parents alike walk the "pet" robot – a hexapod with a leash clipped to a joystick on it's back.  I love being out and about with the hexapod, because there are only two reactions people have to it; 1.  OMG THAT IS THE COOLEST THINGS I HAVE EVER SEEN!!! or 2.  OMG A SPIDER KILL IT, KILL IT!  Both reactions are pretty great.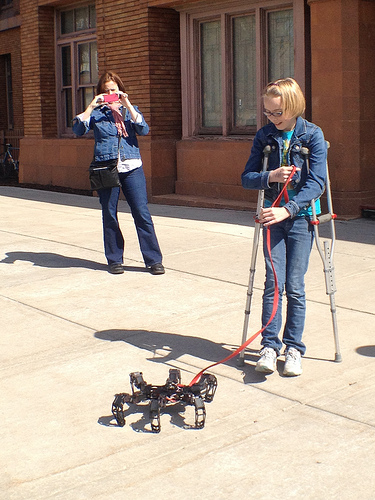 The location, Carl Schurz HS, and so there were a lot of great students helping out and attending.  It is also a gorgeous school, the pinnacle work of architect Dwight Perkins, done in the Prairie Style.  I spent some time photographing the building, and I made a set on Flickr of my shots.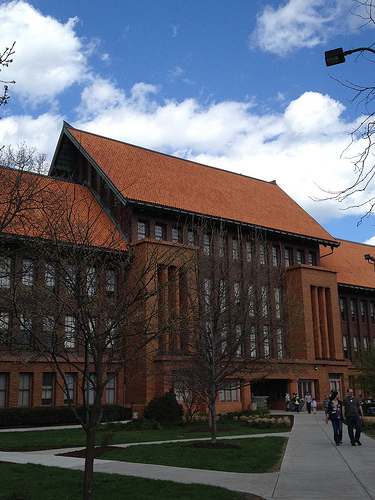 Overall, this outing was kind of a test run for potentially having my own booth at the Maker Faire next year.  I still need to do some homework, but I'm thinking I might jump in!  Since this blog seems to run towards insight into the work an artist does, I will say it is always, ALWAYS, a good idea to have attended the events you are going to participate in.  It only takes one time vending at a church holiday market show stuck between rows of Tupperware and Scentsy booths with no interest and no sales to learn that lesson.
P.S.  Super sweet bonus since this post is so late in coming.  FYI – the Apple Store in Lincoln Park is both dog AND robot friendly.